Install the Pet Tag receiver
Updated 4 months ago
Before installing and using Wayzn Pet Tag, please take a moment to review the Wayzn Pet Tag Quick Start Guide if you haven't already done so.
WARNING: OPENING AND CLOSING DOORS REMOTELY CAN BE DANGEROUS.
USE OF WAYZN PET TAG, EVEN IN HOMES WITH SECURE YARDS, INCREASES RISK OF INJURY AND REDUCES SECURITY.  THE SAFEST WAY TO USE WAYZN WHEN AWAY FROM HOME IS TO FIRST CHECK THE AREA WITH A CAMERA BEFORE USING THE APP TO OPERATE THE DOOR.
AUTOMATION IS NOT RECOMMENDED FOR HOMES WITH POOLS, SMALL CHILDREN, SMALL PETS, OR YARDS THAT ARE NOT SECURE. PLEASE USE CAUTION AND CONSIDER THE RISKS BEFORE CONTINUING TO IMPLEMENT ANY FORM OF AUTOMATION.
Wayzn Pet Tag consists of two parts: the tag and the receiver. Each of these components must be positioned correctly in order for the system to work properly. This article explains how to attach and position the receiver. After installing and setting up the receiver you will want to learn how to position and attach the tag.
Positioning and attaching the receiver
The very first step in setting up Wayzn Pet Tag is to install the receiver. For best results follow these guidelines:
Step 1 - Determine the best placement
Position the receiver as close to the door edge as possible, but leave at least 1 inch between the receiver and any raised trim or door casing. Make sure the logo is upright and the button and light are facing up toward the ceiling.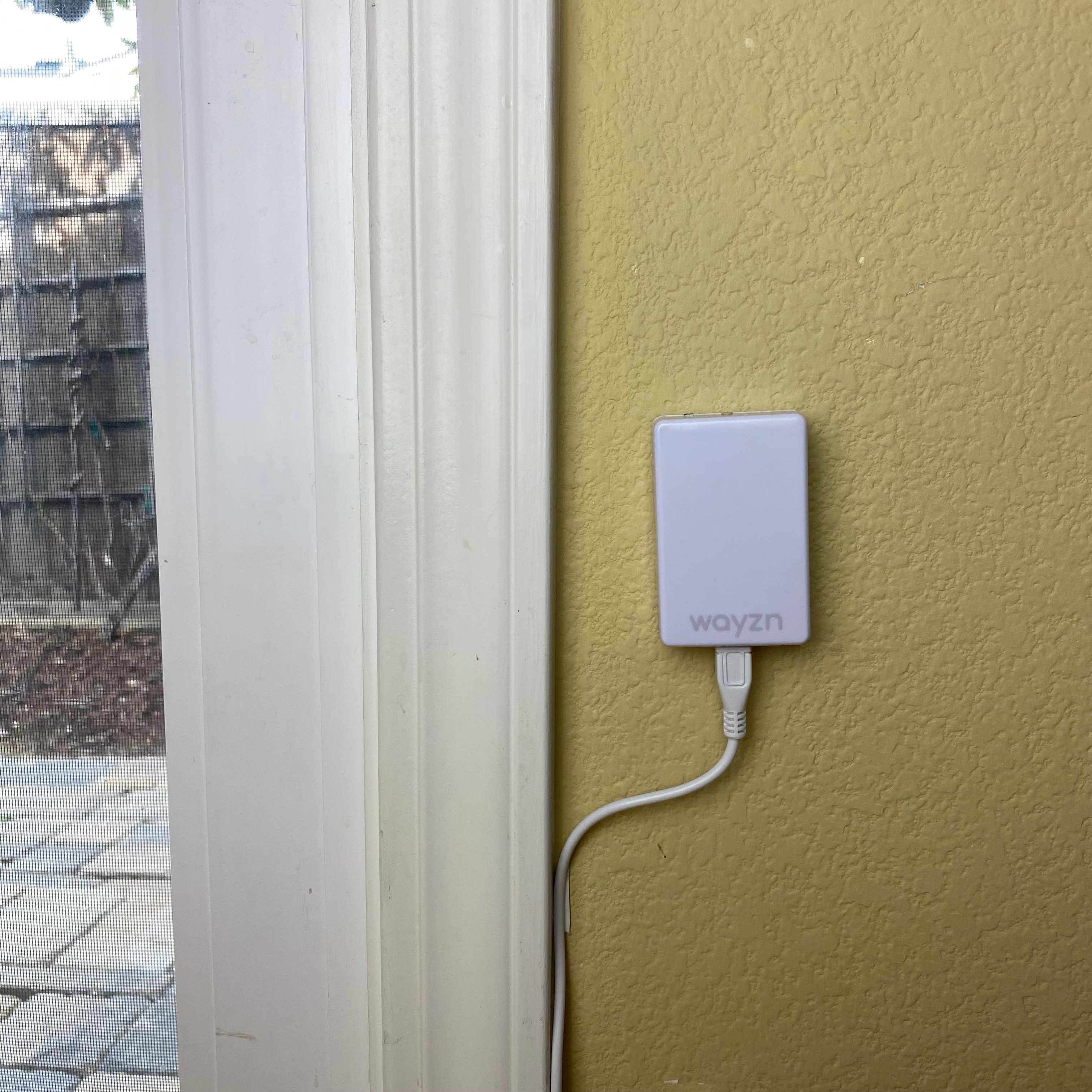 If you have only one pet, position the receiver at the same height as your pet's neck. If you have multiple pets that will be wearing tags, use their average neck height to determine the optimal height for the receiver.
Step 2 - Stick it to the wall
The receiver comes with removable mounting tape pre-applied. After determining the optimal placement, remove the backing paper to reveal the sticky surface, then press the receiver into position and apply pressure for ten seconds. The tape uses a hook and loop mechanism so you can temporarily remove the receiver at any time by pulling it off the wall, being careful not to remove the tape (and your paint along with it). 
Step 3 - Supply power to the receiver
Always use the plug and cable that were supplied with your Wayzn Pet Tag. Start by carefully inserting the Micro USB cable into the bottom of the receiver. Please note that this is a directional connector, so take care to ensure you have the connector oriented correctly before inserting it. Next, connect the other end of the cable to the plug, and plug it into the wall.
---
After installing the receiver and supplying power, follow these steps to pair the Pet Tag with the Wayzn mobile app.
Was this article helpful?